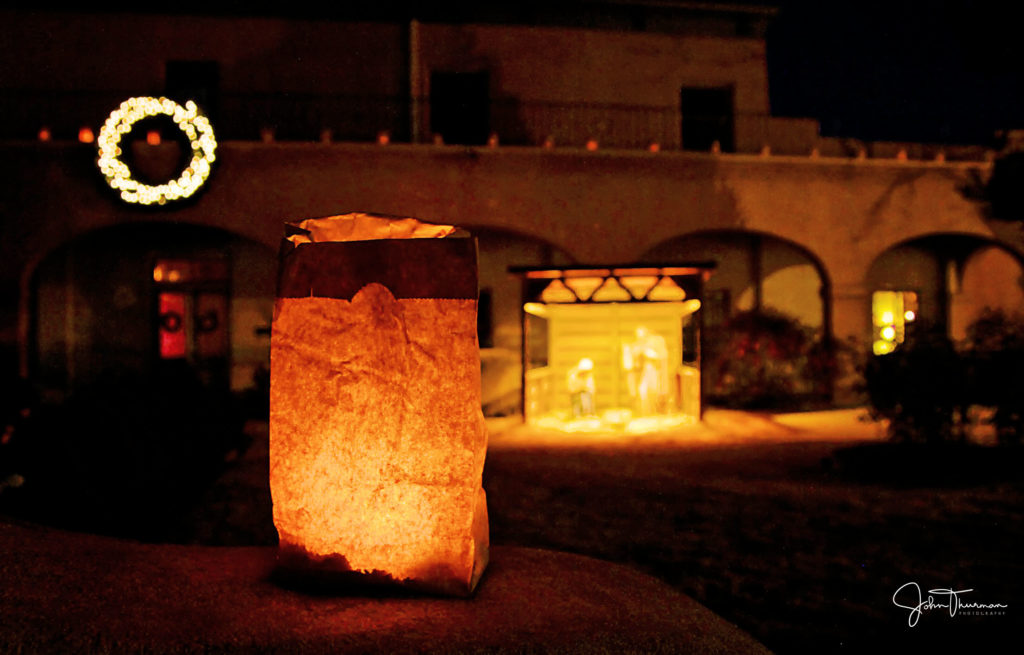 Faith expands in tough times.
With all that has gone on this year, I wanted to show you how to have hope this Crazy 2020 Christmas!
Are you ready for Christmas? I am! Am while I am not Buddy the Elf, the Christmas season has always been a time of celebration for our family in both the lean and bountiful years.
We have had a muted holiday so far in New Mexico. I have to admit that I have been a little jealous of my friends in Texas and other states. They have posted pictures of Christmas parades, visits with Santa, and other holiday events.
We are still under a pretty significant lockdown and many are under tremendous stress due to COVID-19. No parades, no gatherings of more than five people, minimal numbers are allowed for church services. Many of my friends who own restaurants and small businesses wonder if they will survive, and the lines at the grocery stores and Wal Mart are long.
Like many of you, we have faced some challenges this year. I lost my job as a contractor with Federal Occupational Health in June. Fortunately for me, I was able to open up a private counseling practice and a corporate training business, which is growing. My wife, a representative with Premier Designs Jewelry (dvtd) learned that her company will be closing its doors at the end of December.
While some people are feeling overwhelmed with all of the stress of the pandemic, you and I can have hope for this crazy 2020 Christmas.
Like you, we have faced some challenges this year and are looking forward to 2021. I am looking forward to the Covid curtain, lifting, and life returning to a "new normal."
With that in mind, I wanted to remind you that as we celebrate the birth of the Lord Jesus, we celebrate the King of Kings coming down to Earth on our behalf. This advent, you and I can learn to have hope this Christmas by learning to trust Him.
"The people who walked in darkness have seen a great light; upon those who dwelt in the land of gloom, a light has shown." This is Isaiah's prophecy. We live in as disturbing times as the prophet was with our government gridlock, terrorism on the upswing, and urban and domestic poverty and violence on the increase. Oh, and let's not forget the pandemic. But there is good news: "For a child is born to us, a son is given us; upon his shoulder dominion rests." Isaiah gives names to this child—all of which are Christmas gifts to us:
Wonderful-Counselor: All of us need someone to whom we can turn to who points us in the right direction. Who better knows what is in the human heart and what we need for the fullness of life than the resurrected Jesus who carries with him his human experience?
God-Hero: We need models of integrity, humanity, and valor in our life, people who encourage us to realize our potential. What better hero can we have than the one in the Gospel who challenges the weak-hearted to bravery, the sinners to repentance, the blind to see, the deaf to hear, and the crippled to walk.
Father-Forever: No one has a father long enough. He gives the unconditional love we all long for. What better father can we have than the Father who waits for his son to return from his life of foolishness or goes out to draw his other stubborn into his embrace?
Prince of Peace: St. Augustine says, "Our hearts are restless until they rest in you." Most of us have restless heart syndrome. Where does true peace come from? It can only come from the Prince of Peace who implants this gift into men's and women's hearts and gives them the vocation to bring "peace on earth to all people of Good Will." [i]
"For a child is born to us, a son is given us; upon his shoulder dominion rests."
A closing thought.
Recently I was doing my morning quiet time and ran across this beautiful thought by Stuart and Jill Briscoe.
Christmas is a time for giving. The prophets gave their promises. Elizabeth (Mary's cousin) gave her praise. Mary gave her body; Joseph, his reputation. The innkeeper gave his stable; the shepherds, their time. And God gave His Son. Tell me, do you see your present there?
What are you giving for Christmas?[ii]
---
[i] https://www.marquette.edu/faith/christmas-reflection.php
[ii] Stuart and Jill Briscoe, 25 Day Advent: Meet Him at the Manger. https://www.tellingthetruth.org/read/advent