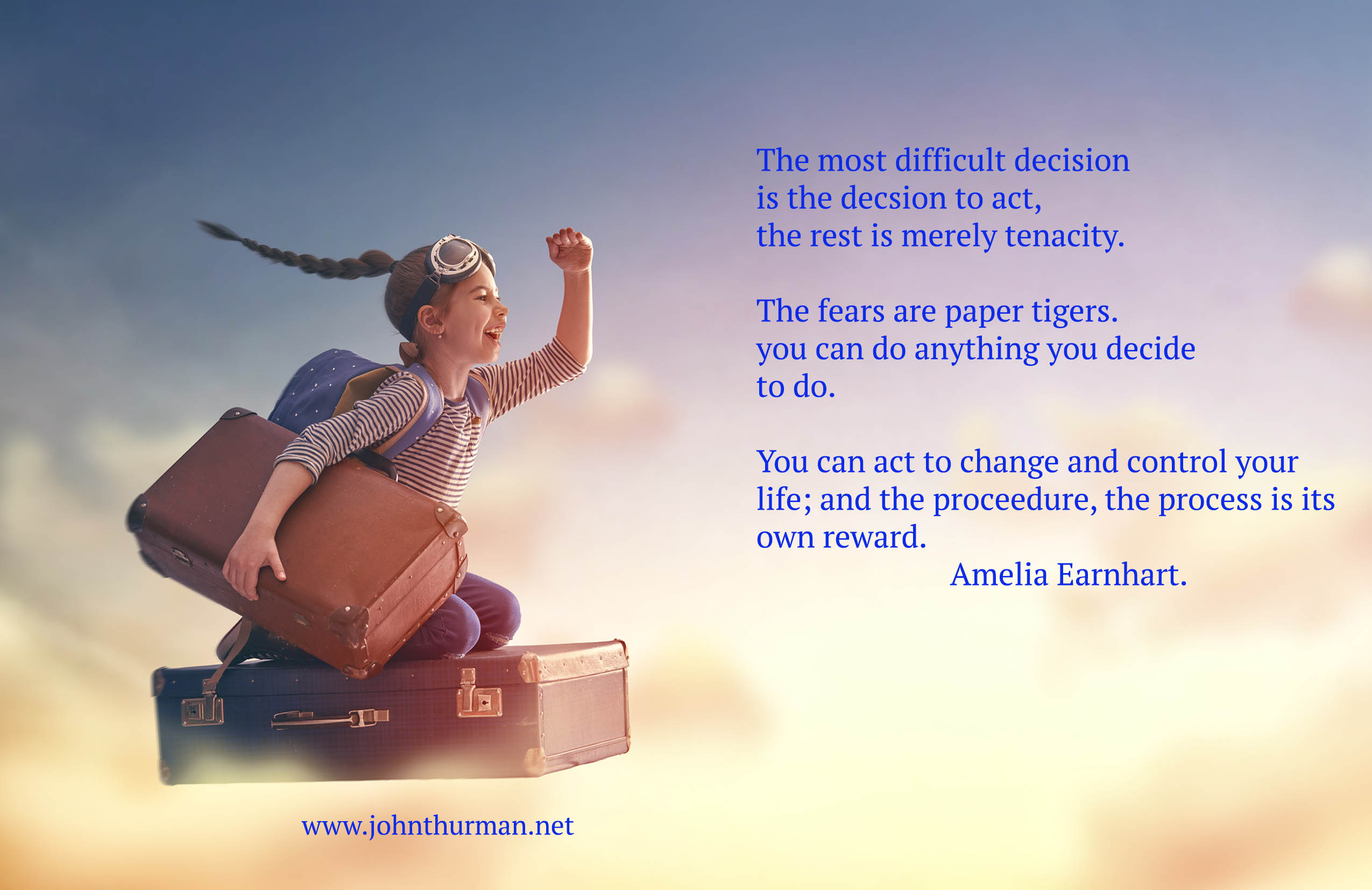 Step 3 – Take Action
Recently, I was watching A Night at the Museum 2, and there was Amy Adams, one of my favorite actors portraying Amelia Earnhart, one of America's aviation pioneers.
Amelia Earhart, what a powerful legacy of a woman, a person who experienced some extraordinary events all because she was willing to take action.
Here we are in 2018, and it seems that ever so often there is a new story about this woman who disappeared in 1937 while attempting to cross the Pacific. That has been over 80 years, and she continues to be in the news. What is it about this woman that continues to amaze us.
I think it was her quiet confidence.
In the early 1920's, while aviation was still in its infancy, a group of daredevil pilots, called "barnstormers," were touring the U.S., giving small-town America a glimpse of the promises of aviation. They would typically land in a field near a town, and for a few cents per head do some aerobatics and show off their skill. After landing, they would offer a short 10-minute ride in their biplanes for anyone who was daring enough and had the money.
On one cold, December morning in 1920, Amelia Earhart purchased a ticket for her first airplane ride, and the rest is history. While the ride only lasted about 10 minutes, it completely altered the destiny of her life: a seed was planted, Amelia was determined to become a pilot. She didn't care that there were only a few female pilots. Through hard work and very challenging conditions, Amelia chose to show up, do the job, develop the skill set and become a well-respected licensed pilot.
Her initial claim to fame was the first woman to cross the Atlantic Ocean. While many pilots both male and female admired the historic flight of Charles Lindberg, few dared to face the seemingly insurmountable odds of a long and dangerous trip across the Atlantic. Earnhart's commitment to both her dream and her craft, not to mention her steely determination lead her to be the first woman to fly solo across the Atlantic.
What was it that set her apart?
Not only was she a competent pilot during her time in history and though her skills were highly polished, that was also not what set her apart. Instead, it was her confidence, her willingness to go after her seemingly impossible dream, and her belief that she believed she could that was the thing that made her unique.
Amelia Earnhart's accomplishments were extraordinary for her time, especially considering that men so dominated her field.
Over the years there have been numerous studies done regarding the gender differences regarding confidence. One of the most exciting studies done by Cornell University showed that men generally tend to overrate their abilities and performance while women generally tend to underestimate both.
With this in mind, I want to take just a moment to encourage you to show up and take action. One of the keys to succeeding in any endeavor in life is to be present and to be prepared, and to actively, engaged and to develop an open mindset.
Here is an insightful tip from my book, The No Fear Entrepreneur.
Choose to shift into a "growth mindset." Dr. Carol Dweck, the author of Mindset, spent her life researching the origins of mindsets, their role in motivation and self-regulation, and their impact on achievement and interpersonal processes. Her findings give us two options—a growth mindset or a fixed mindset.
A "fixed mindset" is one in which you believe you are born with a particular set of talents, abilities, and intelligence—all of which are unchangeable. Some people with a fixed mindset may find it harder to experience life change and growth. As a result, a fixed-mindset person fails to develop his abilities and is more likely to give up or become distracted and feel depressed when he fails to make the grade in his own eyes.
A person with a growth mindset begins in a different place. When you have a growth mindset, you see yourself and others as more flexible, adaptable, and hopeful. Way down inside, you know the potential for growth and development. With the right motivation, effort, moral compass, and concentration you must believe you can become better at almost anything. A person who has a growth mindset does not take failure personally. That individual tends to see set back as an opportunity for growth. If one path does not work, then the person will try another.
As a Christian therapist, I believe the Bible continually teaches the benefit of being growth-minded. I think God is active in time, space, and history and that He has an aggressive, life-fulfilling plan for each of us. The Bible gives us the truth, hope, and stories of those who have gone before us and have found such purpose.
You can overcome the fear of failure by understanding those old triggers and turning them from energy-sapping vampires into life-motivating power that will help you accomplish your dreams.
Amelia Earhart maintained an open mindset. Moreover, even though she perished pursuing her dream, she is remembered as a woman who took action.
How about you, what action do you need to take to embrace the life that God has for you?
What fears are holding you back?