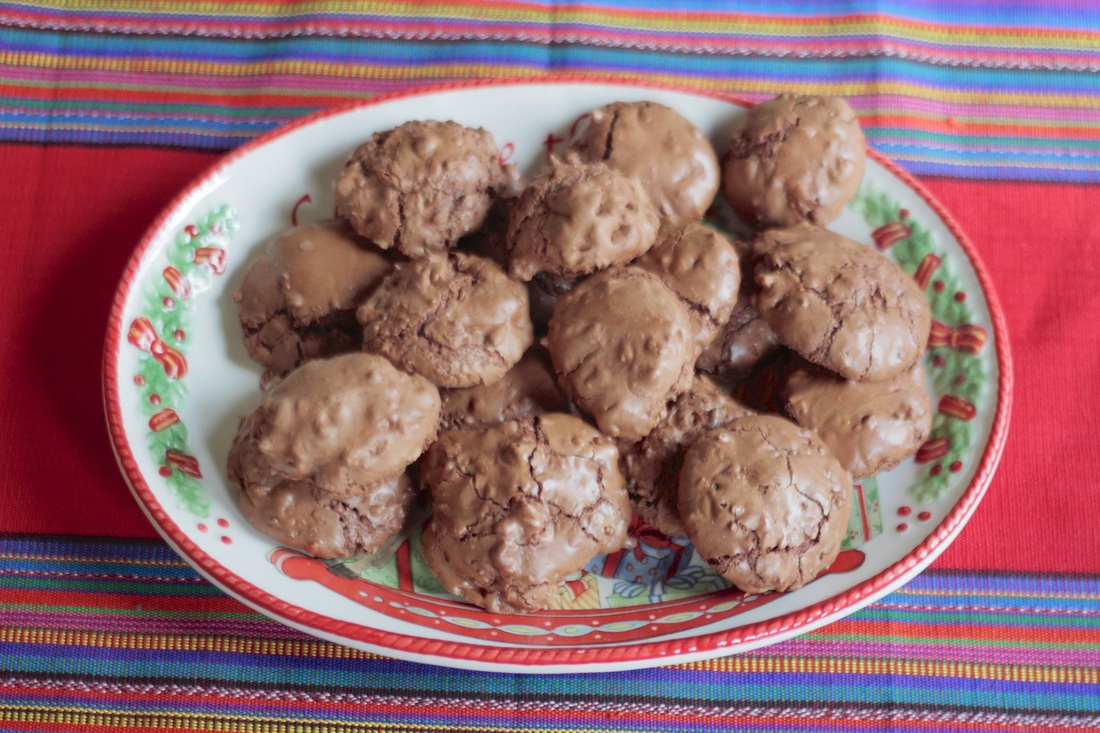 Chocolate/Chipolte Souffle' Cookies
Light, crisp, chocolatey, moist, and gluten free.
6 oz bittersweet or semi sweet chocolate chopped. I prefer Ghirardelli 60% Cacao Bittersweet.

Two large egg whites, at room temp

1/8 tsp. of cream of tartar

1/2 spoon of vanilla extract

1/4 cup of sugar

3/4 cup of finely chopped walnuts. (You can use pecans, but I think the walnuts enhance the flavor a little more)
** optional Chili you can add up to 1/2 a tsp to get lust a note of heat.
Parchment paper or some type of cooky sheet like a Silpat or Real Simple
Position your racks in the upper and lower thirds of your oven and preheat the oven to 350.
Melt the chocolate, I us my microwave. Set aside.
Beat the egg whites with cream of tartar until soft peaks form. With the beaters running gradually add the vanilla and the sugar. Do this until the egg whites hold stiff peaks but don't look dry. Gradually fold in the nuts and chocolate into the egg white with a large rubber spatula, trying not to deflate the egg whites, until the color is uniform.

Immediately drop level teaspoon or 2" cookie scoop onto baking sheets at least 1 inch apart. Back until cookies are shiny and cracked, usually 10-12 minutes, depending on your oven and altitude. They should be firm on the outside and a little gooey inside when you press them.

Slide the parchment onto racks and let them cool completely. They are best eaten within a day or two, but can last a couple of more days if kept in an airtight container. These do not mail well because they are fragile.
Enjoy.
Apart from the adding of Chipotle , the recipe comes from The Best of Fine Cookies edition.