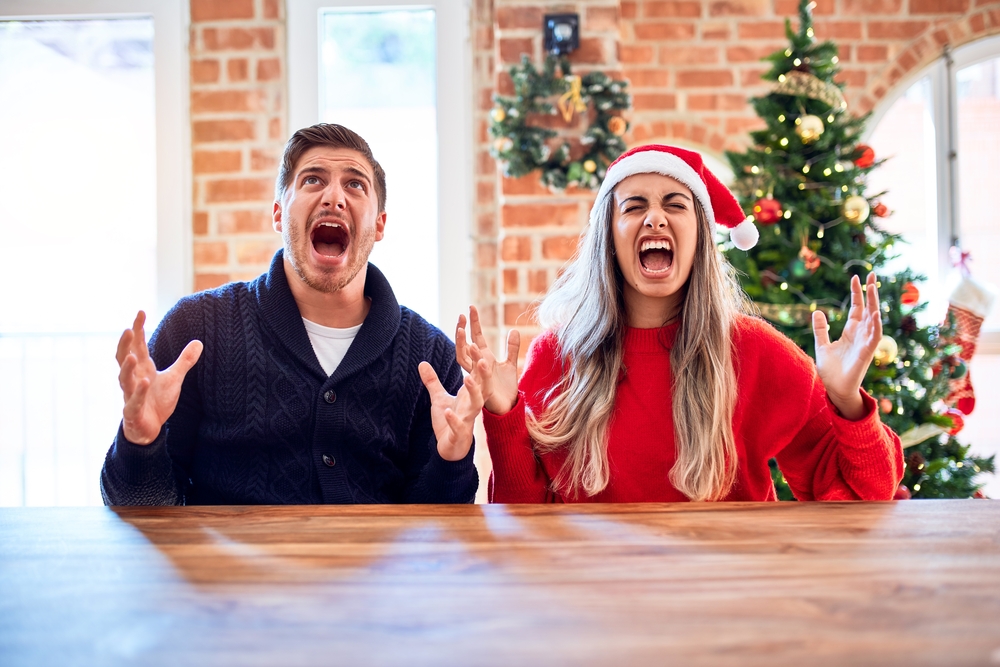 By John H. Thurman Jr.
Can you believe it? Christmas is almost here. And in the next few days, millions of people will be headed home for the holidays. If you are a parent, then you are also keenly aware that Saturday morning cartoons, YouTube, and other prime time for kid's program are filled with toys, computer games or devices that they "just have to have."
While television and the movies portray the holiday season as a wonderful, magical time, for many people the beginning of the season that can dredge up unpleasant thoughts and memories. The truth is that the holidays can be a time of great joy and a time of painful reflection.
With that in mind, I wanted to warn you about four pitfalls to avoid. Why? So you can become more resilient as a person and a couple.
There are at least four Pitfalls that can show up, particularly during the holidays.
The Pitfall to Avoid is Bitterness
Remember The Grinch Who Stole Christmas? Dr. Seuss was writing about bitterness. Holding on to anger and resentment is not only dangerous to your health but can harm you spiritually, emotionally and relationally. Bob and his two tweenage (9 and 12) sons were preparing to celebrate their first Christmas after his wife had abandoned he and the boys for another man. "I had heard about anger and resentment in a DivorceCare™ Class at church but had no idea or understanding of how powerful these emotions were until the "Holiday play" at my nine-year old's school. At that moment, while watching my youngest son, by myself, I felt a pain and a level of anger that really shocked me.
Part of the recovery from any loss is coming to terms with bitterness, anger, pain, and disappointment. The problem for many people is that they refuse to let it go. The roots of their bitterness usually relate to old anger that many times was righteous anger that failed to get processes. Carrying around these feelings can literally destroy you from the inside out. Holding on to these thoughts and feelings can, and usually does lead to some type of emotional and physical manifestation.
Don't worry about anything; instead, pray about everything. Tell God what you need, and thank him for all he has done. If you do this, you will experience God's peace, which is far more wonderful than the human mind can understand. His peace will guard your hearts and minds as you live in Christ Jesus.
Jesus said, "Forgive us our sins as we forgive those who have sinned against us." Forgiveness is a powerful tool. Forgiveness does not mean that you approve of what happened to you, or that what happened to you was okay. It does mean that you can learn to forgive. Forgiveness means that I as an individual can learn to release my hurts to the Lord and let Him take care of them. When I forgive those who have sinned against me, I leave the consequences of the offense for Jesus to deal with.
The Pitfall of Perfectionism
Sally was a hardcore perfectionist who loved God and had a home that would make Martha Stewart proud. She had struggled for years with her need to be perfect. The fact that her mom, a professional perfectionist all of her known life, hadn't helped. Perfectionism means you are constantly trying to achieve a self-induced standard that you have a slim chance of hitting. And that standard is usually linked to a parent or family of origin that struggled with the same issues. Some of you know exactly what I am talking about, remember the eight grade when you brought home a report card that had five As and a B, one of your parents didn't notice the As, but instead they shared their disappointment over the B. Now that is a perfectionist family.
Perfectionism is kind of like walking by the chocolate shop at the mall and only having a free sample of their fine chocolate, the perfectionism leaves you consistently unfulfilled. The pressure of perfectionism leaves you feeling like a loser ensuring that you will never enjoy the life God has given you to live right now. You feel that there is this standard that you will never be able to meet and the truth is you won't, but Jesus already has.
Check your self talk. It is the chatter of the mind that seems to run on automatic. It is those thoughts that can consistently build you up or tear you down. There are specific strategies you can learn to help you more effectively manage those thoughts. If being stuck on perfectionism means that you never feel like you are good enough, your house isn't clean enough, your project isn't correct enough, you are stuck, captured by the power of perfectionism. The following passage of Scripture can help you learn to check your self-talk and manage it in a way that is more realistically based on biblical thinking.
Learn to push back that voice of fear.
As you learn to more effectively manage your perfectionism you will find that you will begin to feel less stress, more focused and be able to enjoy the celebration of the Lord's birth.
The Pitfall of Shame
You are either living your life with a balance of grace and appropriate guilt or you are living a life out of balance with some grace and a lot of blame, shame or inappropriate guilt. Our culture has adopted the "find someone else to blame," and though you may feel like you may be justified in blaming others for things in your life the truth is that there is only one person that can make you feel guilt or shame and that person is you. These feelings can and are usually rooted in some old family relationships, which is one of the major reasons the holiday season puts the issue so close at hand.
Walking around with feelings of shame and guilt about who you are and what you have done in your life will only slow you down and steal the joy of the holidays. When you are consumed by shame and guilt you cannot and will not live a life that has the joy of purposefulness in it.
Barbara was one of those folk who had grown up in the Southwest. She was the oldest of four. Her dad was a pastor and her mom worked as a school teacher. Being firstborn, she tended to be driven by rules and competition. In her early teen years, she stopped going to church and began to experience sex, drugs, and the party life. She had heard all of the talks about how bad premarital sex was, but she had to admit it felt good to be pursued and to feel like someone loved her. Within two to three years she came to a place where she decided it was in her best interest to slow down the sex, stop drugs, and to rethink her partying pattern, and to rededicate herself to the Lord.
She struggled to forgive herself and seemed to carry around a fifty-pound sack of shame with her most of the time. What Barbara needed to do was to accept God's forgiveness and forgive herself.
Look in the mirror and forgive yourself. Remember the story of Jesus and the rich man. Love your neighbor as yourself. You need to do an internal, reality-based gut check.
The Pitfall of Anxiety
If you feel like a cat running through a room of rocking chairs then you are probably having an up close and personal season of stress and anxiety. If you are stressed up and tweaked out about everything from your relationships, finances, and health, it is inevitable that the holiday season will probably add to your stress and anxiety. Mix into the soup the sometimes unrealistic hopes for the perfect holiday with tender family time, award-winning decorations and meals that the chiefs from the Food Channel would be envious of and you are heading for a major crash.
Anxiety and stress are usually expressed physically. This can manifest itself with heart palpitations, racing thoughts, feeling insecure and hopeless. Stress can also make you feel numb and may cause you to become completely overwhelmed. Because Christmas and New Years normally cause us to review the past and hope for the future, the Holiday season can be a time of stress, anxiety, and hopelessness.
Modern research validates the ancient truths of Scripture, with that in mind here are just a couple of short poignant examples.
"As a man thinketh so is he..," Proverbs 23:7.
Any my favorite antidote to stress and anxiety is Phil 4:4-9
Always be full of joy in the Lord. I say it again–rejoice! Let everyone see that you are considerate in all you do. Remember, the Lord is coming soon.
And now, dear brothers and sisters, let me say one more thing as I close this letter. Fix your thoughts on what is true and honorable and right. Think about things that are pure and lovely and admirable. Think about things that are excellent and worthy of praise. NLT
I hope that you and your family have a peaceful, blessed, hope-filled Christmas.
Here are some links to other articles:
Reduce Fear, Anxiety, and Stress