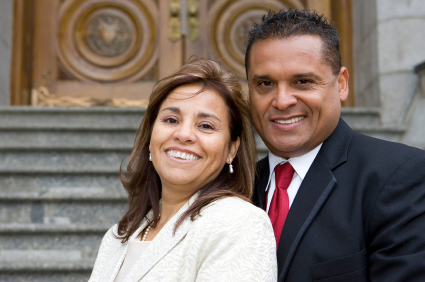 Marriage is more than a ceremony. Here are some tips to help you along the way to a long-term marriage.
By John Thurman, M.Div., M.A., LPCC
I want you to think back to the first time you met Mr. or Miss Wonderful.Like most people, you probably felt a rush of excitement when you thought about being with this special person. Those loving looks, he opening the door for you, she telling you how handsome you are. Well, here is a fun look back at what it was like before you said, "I do" and what has happened after you did.
Guys first. (Disclaimer, I am a guy and hopefully I will not be giving away trade secrets.)
Before:
In the workplace you say to your supervisor, "Man, I cannot wait to get to the house tonight and spend some quality time with my bride."
After:
Now he says, "Hey boss do you have any overtime or extra projects for me to do?'
Before:
You never read the menus from the left to right because price did not matter, after all you were in love.
After:
You gently remind her to read the menu from right to left, because you are trying to save money, and you forgot your Entertainment™ book.
Before:
Remember, when you were dating? When you spoke on the phone with each other neither one wanted to be the first to hang up. This playful banter would go back and forth until you both hung up.
After:
Now, you drop a call while she is mid-sentence and explain to her later that your phone must have dropped the call.
Before:
If she cooked dinner that was either a little over done or a little under done, you smiled and said something like, "Rachel Rey would be proud."
After:
Now, if she cooks and the food is a little over done or a little under done, you look at it and say something like, "I'll just have a peanut butter sandwich."
Next week we will look at "After the "I Do's" from the women's perspective.
In the third part of this series, I will give you some proven tips to power up your communication.