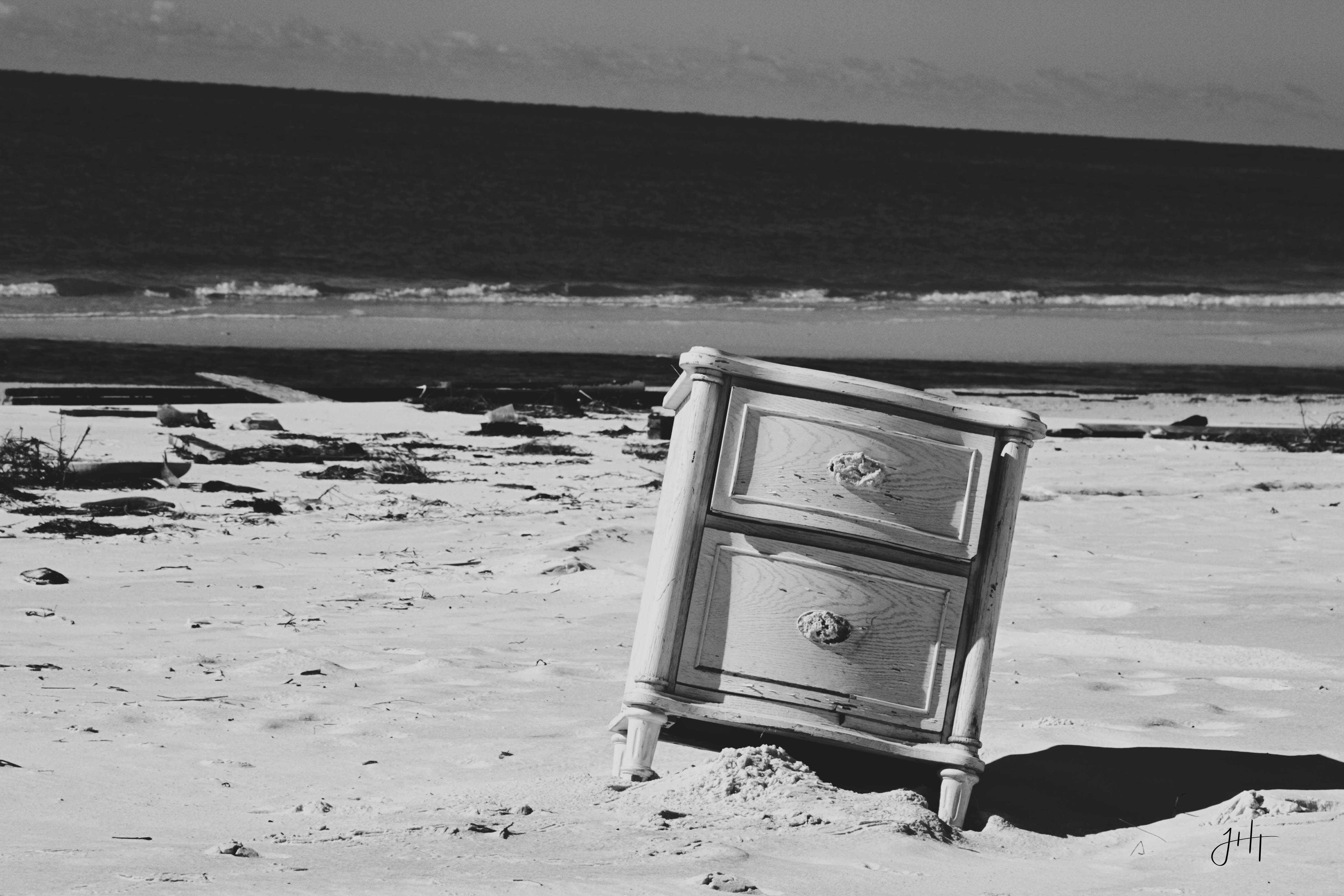 The autumn breeze carries fine drops, each on a promise of rain to come. Isn't this a beautiful quote about the seasons shifting from Summer to Fall?
However, in my line of work, autumn means Hurricane Season, and that usually means that I will be traveling.
I work as an Employee Assistance Consultant for several federal agencies and this time of year I am usually on the road. As a matter of fact, one of my grandsons reminded me that this will be the third Halloween that I will not be in New Mexico.
Two years ago I was in Baton Rouge for the Louisiana Floods, last year I deployed twice, first toTexas and then Puerto Rico, and today I am in Panama City, Florida.
This deployment has an ironic twist to it. Mexico Beach, (pictured above) is the beach that I, as well as thousands of others from Middle Georgia, LA (Lower Alabama) and many others spent part of their summers. I think one of the reasons my family, particularly my momma loved Mexico Beach so much as it was where she spent part of her summers in WWII.
Mom and Dad's logic was that Mexico Beach was very family friendly, no distractions of a boardwalk, or any of the tourist trap stuff. Just the beautiful, sugar-white beaches and not too far away from a pier that we would go crabbing and fishing on. There were so many good, fun memories of my youth.
I had seen the news reports, and though I was somewhat prepared, it was still a profound shock as I came through the security checkpoint manned by Florida State Police Officers to see the damage.
I pulled off what vaguely resembles a street I'd walked a few times as a boy, except this time I was wearing safety shoes and cargo paints as opposed to the cutoff jeans and flips-flops I'd worn as a boy and young teen.
The noises and smells of this disaster are not unlike others I have worked on. There is a unique and pungent smell of wet insulation and wet drywall mixed with dirt and concrete dust. On top of that is the rancid, putrid smell of 150 refrigerators that have been sitting in the sun for nearly a month brutally assaults your senses and for the first few minutes, your gag reflex can be a bit reactive.
When you look at the debris, rubbish, the piles of 2×4's and brick scattered all around you will occasionally see a family portrait, a toy, or knick-knacks that represent treasured memories and days, now pretty much vanish except in the memories and photos that survive.
In the background, I hear the low rumble of backhoes, bulldozers, and dump trucks punctuated by the piercing beeps of back up warning signals. As I move toward the beach, the welcoming smell of a salty Gulf breeze, as well as the sound of small waves gently landing on the lonely and abandoned beach muffle the sounds of the recovery efforts reminding me of both the beauty and the awesome power of the ocean.
For a minute I allow my mind to wander, seeing myself as well as my mom, dad, brothers, and sisters spending some of our summers with other family members at the beach. Memories of crabbing, fishing off the pier and the smell of young teens with either baby oil, and Coppertone flip through my mind like an old highlight reel. In more recent years I recall, with much fondness a trip that my wife and two children made to Mexico Beach for a family reunion.
Those of us growing in this part of the country share many memories of our times in this beautiful part of Florida.
The destruction is monumental, particularly for the homes south of the beach road. Catastrophic, considering that the winds were around 150 mph and a storm surge of 12-14 feet for those homes near the water lowering to three to four feet across the highway.
As sad and devastating as this event is, I know from a place deep in my heart that the people who work, live, and vacation at Mexico Beach and the Florida Panhandle will come back, and come back strong.
In all of the work as a professional working in the arena of Disaster Mental Health and Crisis Response, I never seem to be amazed at the consistent way people react to sudden trauma. Some, who are closed-minded are easily overwhelmed by the events around them, to the point of feeling emotionally arrested and hopeless victims. Others, who have gone through the same event walk around stunned and shocked for a few hours or days but then have an opposite reaction. They are survivors who are going to make a way through the trauma. Rather than being immobilized by fear and loss, many like Tim and Cheryl, whose story I will share in my next post, do a reality check, begin the process of accepting the losses and start to think about rebuilding.
How about you, are you closed-minded or open-minded, for more information check out Dr. Caroline Deweck's Book, Mindset.
Be sure to look out for my next post, it is an interview I had with a survivor who was picking through the rumble of his beach home. I was you to learn a little about this man's tenacity.
Blessings from the Florida Panhandle. #panhandlestrong.