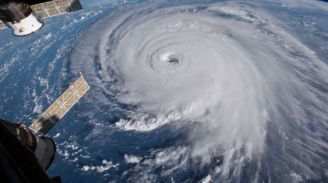 John Thurman
Over the past few days, thousands of us who work in disaster response have been watching the Weather Channel more intensely that the most devoted sports fan. Whether a volunteer with a faith-based organization like the Southern Baptist Disaster Relief Organization or veteran-based group like Team Rubicon, the Cajun Navy, and folks like myself who work with Federal State, and Local Agencies we are preparing for our various deployments.
What you may not know is that Lowe's, Home Depot, and other big box hardware stores will be sending trucks filled with saws and other construction equipment as well as techs to maintain the tools that many disaster response agencies will be checking out. The Tide Company will send 18 wheelers with commercial washers and dryers for the victims to use. Last year, while deployed in Puerto Rico, the Army Reserves set up a field shower and laundry and bath facility for people to use.
Verizon will be setting up thousands of hotspots, and lord only knows all of the other companies that will be involved. It is indeed an "all hand on deck" type of experience.
Tonight, and in the days ahead we will be getting our deployment bags together, inventorying equipment, reviewing our specific skill sets, coordinating with our various team leads and team members, and wondering, when and where we will be deployed and what it will be like once when we get there.
We will be thinking about the folks who will be directly impacted by what will be occurring in the next few days. We hope and pray that people the evacuation orders seriously and hope that none of our first responder partners will have to risk their lives because of some stupid idiots who decide to try and ride the storm out.
Some of my responder buddies are already pre-positioned, others, like myself, who work as a Stress Counselor for FEMA Staffers will be rolling out in the next few weeks and will be rotating in and out over the next several months.
Thanks for letting me share some of my thoughts from my perspective as a Disaster Mental Health Provider.